When it comes to wedding budget planning, it's important to allocate your funds in a way that will ensure your wedding is perfect. This may seem daunting, especially when the average wedding cost in the UK is £14,422 (according to Bridebooks 2020 survey), but don't worry! We're here to help. There are a lot of wedding costs that can add up quickly when you plan a wedding, so it's important to be mindful of your budget from the start. You might be surprised at how much things like flowers, invitations, and photography can cost. But by being aware of these costs early on, you can make sure that you're not caught off guard later down the road.
In this article, we'll discuss what couples need to take into consideration when planning their wedding budget, as well as helpful resources to ensure you stay on track. We'll also provide some tips on how brides can save money on their wedding. So, let's get started!
Table Of Contents: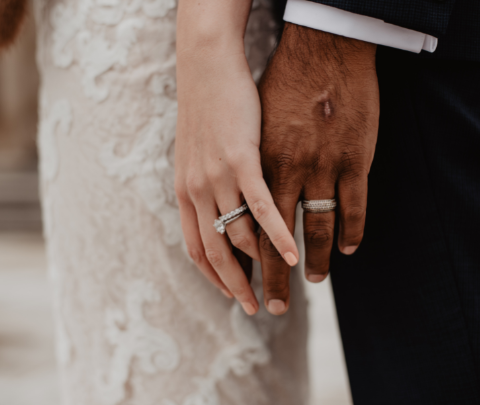 Step One: How Much Can You Afford To Spend On Your Wedding Day?
When it comes to wedding budgeting, the first step is to sit down with your partner and have an honest discussion about what you're both willing and able to spend on your overall wedding budget.
You may have some savings set aside already, not specifically for your wedding, but it's up to you whether or not you want to dip into those funds. Once you have a good idea of what you can realistically afford, you can start looking at wedding costs and begin to allocate your budget accordingly.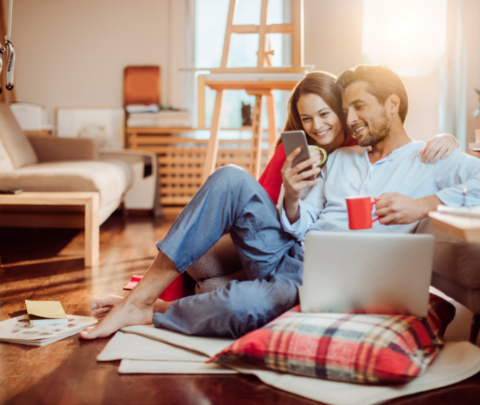 We recommend looking at your monthly income and working out how much you can afford to save monthly after your utility bills and other unavoidable expenses. Keep your extra funds in a separate saving account in order to keep it safe and untouched until you are ready to start wedding spending!
Most wedding vendors and venues require some kind of upfront cost, even if it's just a deposit. This means that it's important to have some savings set aside before you start trying to book things for your wedding. Otherwise, you could find yourself in a situation where you can't afford the vendor you want. So if you're starting to plan your wedding, be sure to have wedding funs already set aside some money for vendor deposits. This will help ensure that you can secure the services you need to make your wedding day everything you've always wanted it to be.
Keep in mind that there are a lot of potential expenses associated with weddings, so it's important to be as strategic as possible with your spending and allow yourself some wiggle room. By being mindful of your budget from the start, you can help ensure that your wedding is everything you've ever dreamed of without breaking the bank.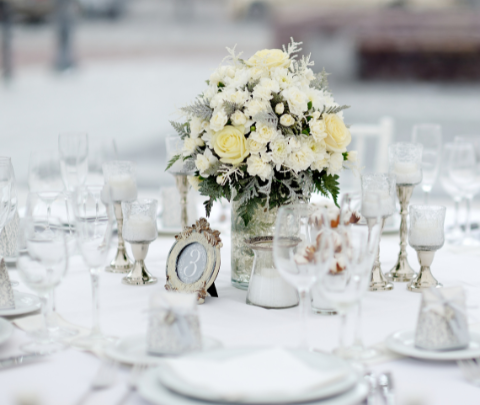 Step Two: Decide Your Wedding Must-Haves
Many couples believe that wedding expenses only begin and end with the wedding dress, tuxedo rental, and venue fee. However, there are actually a lot of wedding costs that go into making your wedding day perfect - from the flowers to the music to the food. This is why it's so important to have a conversation with your partner about your wedding budget before you start planning.
Knowing what you both want and need for your wedding day will help you prioritize certain factors and save money in other areas. For example, if you both feel strongly about having a live band at your wedding reception, then you'll know that this is something you should allocate more of your wedding budget towards. On the other hand, if you're fine with a DJ, then you can save money by skipping the live band and putting that money towards something else, like your honeymoon fund! Having this conversation early on will help make wedding planning a lot less stressful - and a lot more fun!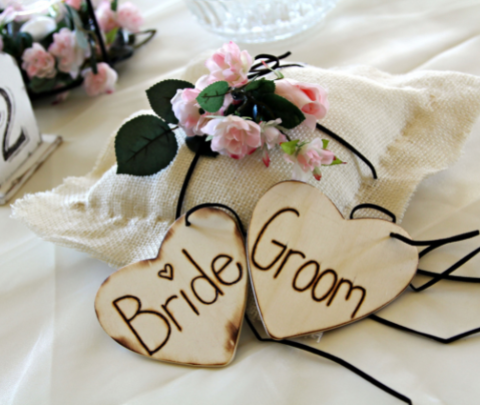 Step Three: Ask Family Members Whether They Can Contribute
When it comes to wedding budgeting, there's no right or wrong way to approach things. In the past, it was more traditional for the bride's family to cover wedding costs, but nowadays we're seeing more and more couples taking on the wedding budget solo. Thankfully, there are a few ways to keep expenses under control.
One option is to ask relatives to help cover the costs of the wedding. The HMRC allows parents to gift up to £5,000 without the worry of inheritance tax, similarly, grandparents (or great grandparents) can contribute £2,500 as a wedding gift and other relatives can contribute £1,000. This can be a great way to reduce costs without having to sacrifice your wedding vision.
These contributions can really make your wedding day allowing you to splash out on things that are important to you on your big day.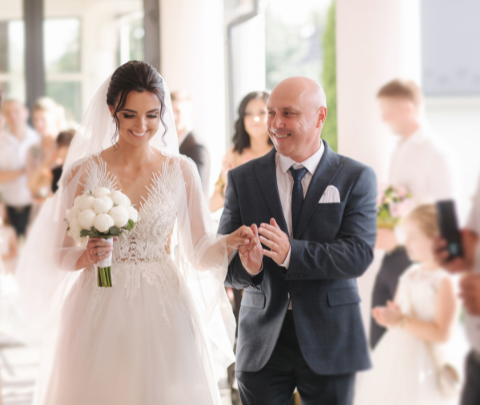 Step Four: Plan Your Guest List
When you're planning your wedding budget, it's a good idea to factor in your guest list. This will give you an idea of the size venue you will need for your wedding venue as well as how many guests you will be catering for. These factors will make your wedding less or more expensive depending on the size of your wedding party.
For example, if you have a large wedding party, you'll need a bigger venue and more food, which will inevitably cost more money. On the other hand, if you have a smaller wedding party, you may be able to get away with a smaller venue and less food, which can save you money.
Of course, there are other factors to consider when budgeting for your wedding, but thinking about your guest list can help to calculate your overall wedding expense. By taking this into account from the outset, you can get a better idea of the overall costs involved and plan accordingly. Some brides will even have separate guest lists for the wedding ceremony and wedding reception to save on the cost of their venue hire.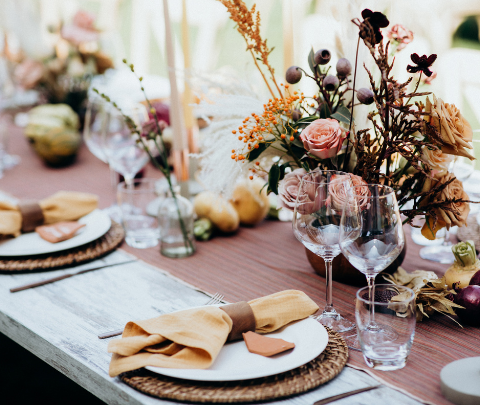 Step Five: Begin Researching Wedding Costs
We'd be lying if we said every wedding was the same, so why would the wedding cost be the same? When it comes to wedding budgets, there is no one-size-fits-all solution. Every couple is different, and so are their dream wedding plans. Some couples may want a lavish affair with all the bells and whistles, while others may prefer a more intimate gathering. As such, it's important to tailor your wedding budget to fit your specific needs and wants.
Research is key when it comes to wedding planning, and this includes figuring out estimated costs for venues or vendors you may be interested in using. It's also helpful to ask around for recommendations - friends or family members who have recently gotten married may have some great insights on where to save or splurge. You may even have a wedding planner to help you when you are researching costs, they'll know which venues offer an all-inclusive package for example, and have much more knowledge of the wedding industry.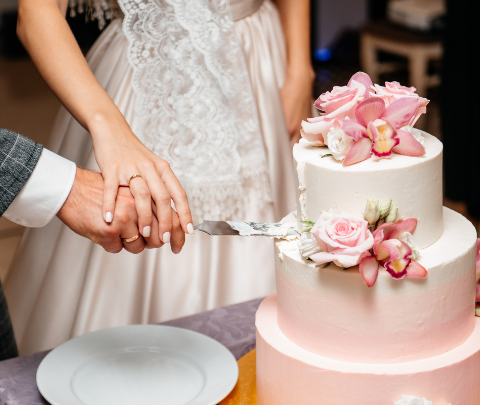 What Should Be Included In Your Wedding Budget Breakdown?
Setting a wedding budget is one of the most important things you'll do when planning your wedding. But it can also be one of the most difficult. There are so many expenses to consider, and it's easy to forget about something important. That's why we've created a wedding budget checklist to help you keep track of all the costs you'll need to pay for. This checklist includes everything from the big-ticket items like your reception venue and catering to the smaller details like wedding favors and thank-you cards. By breaking down your wedding budget into these categories, you can ensure that you don't miss anything important. And by keeping track of all your wedding expenses, you can be sure that your dream wedding doesn't turn into a financial nightmare.
The Ultimate Wedding Budget Checklist
There are so many costs to take into account, from the major expenses such as your wedding reception venue or wedding ceremony venue to smaller, less important expenses such as your pre-wedding beauty treatments and wedding dress cleaning. It's important to have a clear idea of all the costs involved in your wedding so that you can stay on track and within budget.
You can find our downloadable ultimate wedding budget checklist at the end of this list. This comprehensive checklist will help you keep track of all your expenses, from the big-ticket items to the little details. Simply print it out and start checking off the costs you've accounted for as you go. With this handy tool, stay organized and within budget for your wedding!
Wedding Venue - this may include having a separate venue hire for your ceremony and reception venue. You'll also want to check what your venues come equipt with, a reception venue may not have catering facilities that you require and this will need to be factored into the budget.

Marriage Licence - this is essential if you want your marriage to be legal. If not you won't be able to enjoy married life, even if you've said 'I do'.

Wedding Flowers - mainly including the brides bouquet, bridesmaid bouquets, buttonholes and any decor you'd like to add. Your wedding flowers cost can vary but we cover more on this in our The Cost of Wedding Flowers Across the UK article. Some brides create their own wedding flowers arrangement to help save on the cost.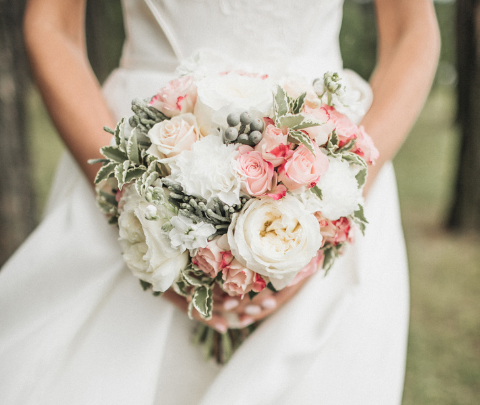 Wedding Attire -this can include your wedding dress if you'd like but there's nothing wrong with having a separate lot of funds to cover your dress cost. You will need to cover the groom's attire, flowers girls' dresses, groomsmen suits, and bridesmaid dresses. One way to save on the attire is to ask your girls to cover the cost of their bridesmaid's dresses.

Wedding Insurance - since Covid-19 hit insurance for your big day has become more and more popular. This will cover you for any cancellations with vendors or any damages that aren't your fault.

Wedding Bands - obviously this isn't the biggest wedding cost to take into consideration, you can buy wedding rings from high street shops. However, this is an additional wedding fund.

Catering - some venues may offer this in an all-inclusive package but others don't, meaning you'll have to source a cater. Make sure to enquire with your reception venue on whether you'll need to provide a cater. Top Tips: Not every wedding needs a three-course meal, don't splash out if it isn't important to you. Alternatively, fewer guests means less money spent!

Venue Decor- whilst some venues come kitted out, many venues may not meaning your may need to decorate your own reception tables or ceremony venue.

Wedding Cake - this is something you should budget for outside of your catering, you may want to add wedding cake flowers (sugar flowers), a cake topper, or just go with a basic cake. You may also need to take into account the cake cutting and utensils in order to make it happen.
Entertainment - from live music to a DJ it still needs to be taken into consideration! You may have other forms of entertainment for your big day, one popular option is a photo booth to capture those silly moments. This is definitely worth budgeting for.

Drinks- similarly to a caterer your venue isn't obliged to provide drinks or a bar, sometimes this is down to you so make sure you add this to your wedding fund. If ur hosting a smaller wedding ask guests to bring their own alcohol!

Wedding Stationary- this is anything from your wedding invitations to your table numbers at the reception venue. It can even be something you DIY to save money!

Wedding Favours- these are normally given to your bridal party, parents and even highly helpful wedding vendors. The choice of how much you spend on these is completely up to you but these tend to be personalised gifts, we offer bespoke wedding flower preservation which is increasingly popular for wedding favours.

Transportation- this will get you to and from the venue, but if you have two venues planned you may have to organise a way to transport friends and family from each location.

Wedding Photography / Videography - this is a must for any wedding as you'll want photos and videos to remember your special day. Our top tip is to meet with your photographer or videographer before the big day to ensure they capture the right moments for you and your partner.

Accomodation - this may not apply to every bride, it really depends on your wedding location, you may even be kind enough to supply accommodation for friends and family.

Shoes / Accessories - this may be a small one but it can really bring together your wedding attire and gives you a space in your budget to account for things such as your veil or bridal shoes.

Wedding Planner- whilst not essential some couples may hire a wedding planner to take some of the stress off the planning process. The great thing is you can hire a wedding planner part time if your looking to still have a hands on approach. They can be great for guiding you to suppliers within your budget and helping your create your dream day.

Emergency Funds - these are always great to have for the unexpected and if you don't end up needing the remaining budget you can always put it towards your honeymoon!
If you love a checklist, like I do, you can download our very own ultimate wedding budget checklist, and be rest assured that you won't forget to budget any vendors into your total cost.
How To Keep Track Of My Budget?
Any wedding budget planner will tell you that wedding costs can quickly spiral out of control if you're not careful. But don't panic! There are some easy ways to keep track of your wedding expenses and make sure that you stay within your budget.
One of the best resources for tracking wedding expenses is a wedding budget planner. There are many different wedding budget planners available online, some of the best are found on wedding websites such as Hitched or Bride Book, so you can choose one that best fits your needs. Wedding budget planners will help you track all of your costs, so you can see exactly where your money is going. This is a great way to stay on track and make sure that you don't overspend.
Another helpful resource for managing your wedding budget is a wedding cost tracker. A wedding cost tracker is a spreadsheet that you can use to track all of your wedding costs, to save you time we've created a ready-made wedding budget spreadsheet for you to use! We've included everything from wedding invitations to your rehearsal dinner and evening reception venue. This is a great way to see where your money is going and to make sure that you are staying within your budget and give you a wedding budget breakdown so you can see the overall cost. You can find wedding cost tracker templates online, or you can create your own.
Keeping track of your wedding expenses doesn't have to be difficult. By using a wedding budget planner or wedding cost tracker, you can easily stay on top of your finances and make sure that you have a beautiful day!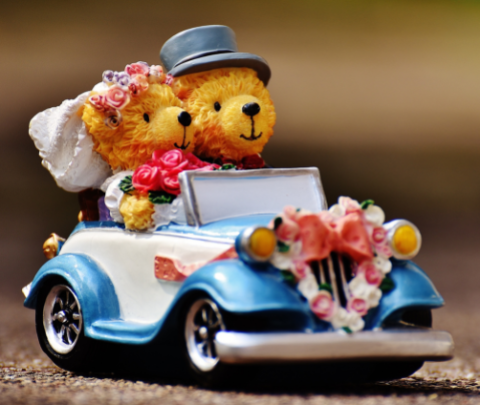 Congratulations on your upcoming wedding! Planning a wedding can be daunting, but it doesn't have to be expensive. By taking the time to create a budget and utilizing the resources we've provided, you can rest assured that your big day will be perfect without breaking the bank. Are there any other tips you would like us to cover? Let us know in the comments below, and be sure to check out our blog for more helpful wedding advice.
Last Updated: 29/07/2022