So you're engaged! Congratulations! Now you're probably wondering, how to plan a wedding. To plan a wedding can be an exciting yet daunting task. So, how do you plan a wedding? There are so many things to think about and do, from picking a date and venue to choosing your wedding party and photographer. But don't worry, we're here to help. In this article, we'll give you an overview of the first steps in planning your wedding. We'll provide helpful tips on how to make the process as stress-free as possible, and tell you where to find more information on each topic. So let's get started!
Table Of Contents:
How To Plan A Wedding...
Step 1: Share Your Engagement News!
One of the most special moments in your life is when you get engaged to the love of your life, so before you start worrying about how to plan a wedding, take some time to enjoy the moment. It's a time to celebrate, share the news with family and friends, and start planning for the big day. Before you get into the nitty-gritty details of wedding planning, be sure to take a moment to enjoy this special time. An engagement party is a great way to celebrate your engagement and share the news with your loved ones. It's also a perfect opportunity to show off your engagement ring and take some engagement photos. So don't wait - start celebrating your engagement today!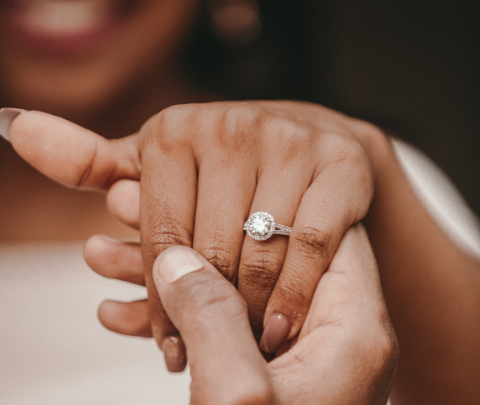 Step 2: Plan Your Wedding Budget
One of the most important aspects of planning your wedding is setting your budget and sticking to it. This can seem daunting at first, as there are so many things to think about when planning your budget. However, this will help in the long run as you'll know your price range for any wedding venue or wedding vendors and know how many guests you are able to invite without breaking your bank. There are a few key things to keep in mind when setting your wedding budget, such as:
Whether or not you'll want a wedding planner

Prioritise, you'll want to ensure things you need are budgeted in while other aspects such as pre-wedding events you may be willing to compromise.

The size of your wedding, as the cost of a big or small wedding will differ, the higher your guest count the higher your budget will need to be.
Once you have an idea of what you want and need to spend, you can start looking into ways to make this happen. A great place to start is by using a spreadsheet or even an online tool to help you keep track of your budget. Microsoft has a page dedicated to wedding templates where you can find layouts for budgeting your wedding or even keeping on top of your guest list. This will help ensure that you stay within your budget and avoid any last-minute financial stressors.
If you're not a fan of spreadsheets, or you're looking for a quicker way to budget your wedding, there are other resources available to you. Finding a wedding website, such as Hitched or Bridebook, can provide tools to generate your own budget and also browse hundreds of wedding suppliers from venues to caterers. The beauty of this tool is that you can access it from anywhere by downloading their wedding planning app, helping you plan your big day around your busy schedule. We have a more detailed blog post on how to plan your wedding budget.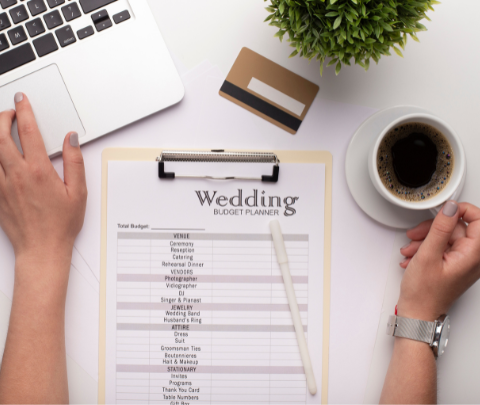 Step 3: Create a Wedding Planning Checklist
The wedding planning process can feel overwhelming, but creating a wedding planning checklist of your priorities for your wedding day can help you keep track of progress and wedding essentials. Sit down with your soon-to-be spouse to discuss wedding must-haves, prioritize what's important, and use this list to plan your wedding like a pro. This is also a great chance to decide whether you'd like a wedding planner or not. Your checklist can also help with planning a timeline and budget by breaking down each task. Check things off as you go and enjoy the wedding planning process with ease.
Creating a list will give you an overview of how to plan a wedding, what needs to be done, and when it needs to be done. Wedding planners can be a great resource for creating a checklist specific to your needs, but you can also find multiple designs for purchase on Etsy, or even a whole wedding planning book. We've created our own checklist which is free to use and can be found below.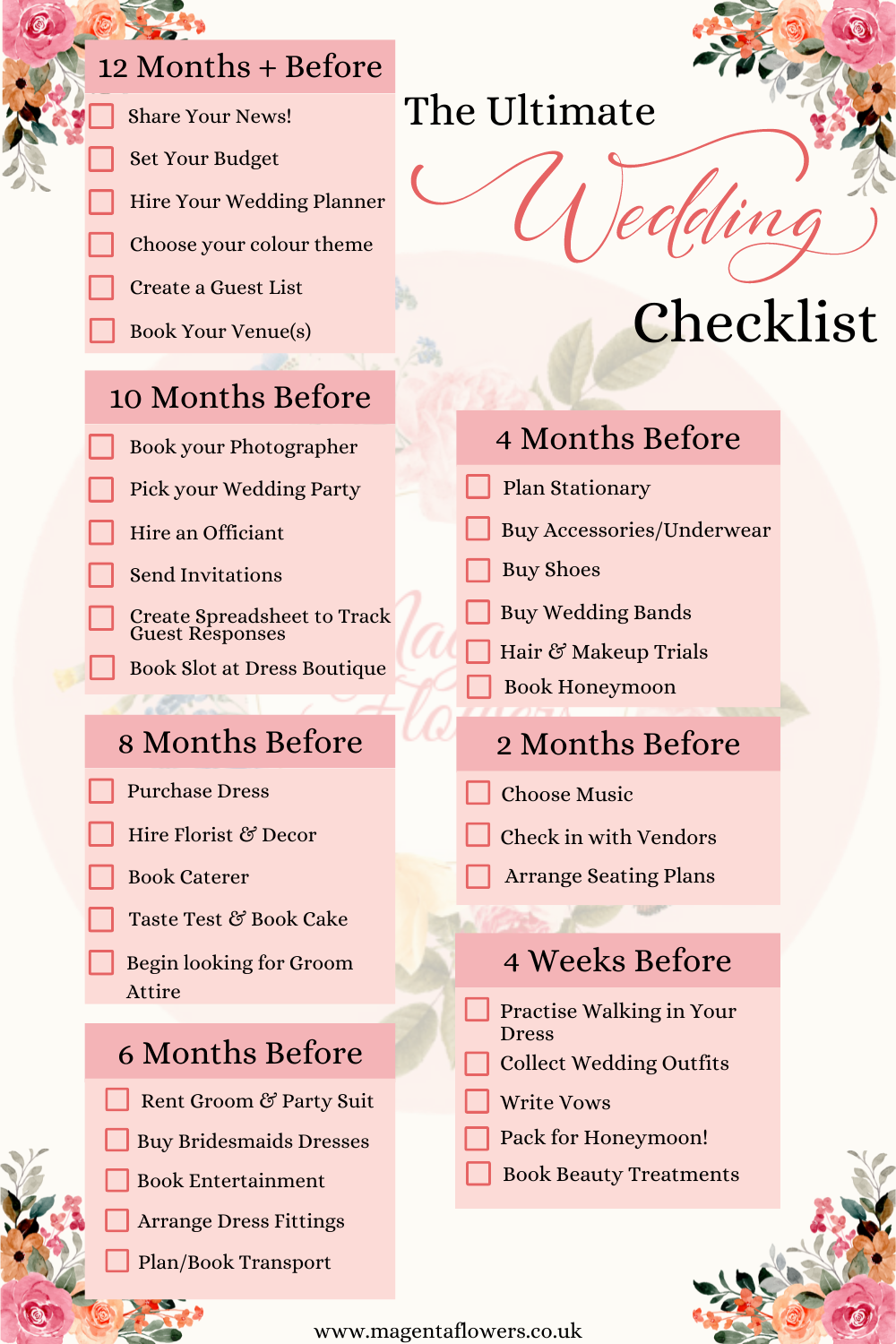 If you'd like to print our checklist to use for your wedding planning, please click here. We also have a more detailed blog post that gives you a timeline to follow as well as a wedding checklist.
Regardless of how you create your wedding checklist, make sure that it covers all of the essentials for your big day, including booking your venue, hiring vendors, and sending out invitations. Remember there's no right or wrong way how to plan a wedding, it's all about you and your partner and what you'd like. And don't forget to give yourself some buffer time in between each task so that you're not scrambling at the last minute. By following these simple tips, you'll be able to stay calm and organized throughout the wedding planning process.
Step 4: Work Out What You Can DIY
Now that you have a checklist giving you an overview of everything that needs doing, and hopefully some form of wedding planning timeline, it's time to decide what you're able to do yourself. This can make such a huge impact, as it will help you make your wedding personal. It is also a cost-effective strategy, and you can always ask your wedding party for help! You really do have the freedom to decide what you're willing to do yourself, and which wedding details you want wedding vendors for. These can be simple things, such as your wedding favors and thank you cards or table numbers at your wedding reception, or something much more elaborate such as your bridesmaid bouquets or table decorations. By taking on some of the details yourself and getting stuck into creating DIY Wedding Decorations, you can really make your wedding unique and special - so start planning and enjoy the process!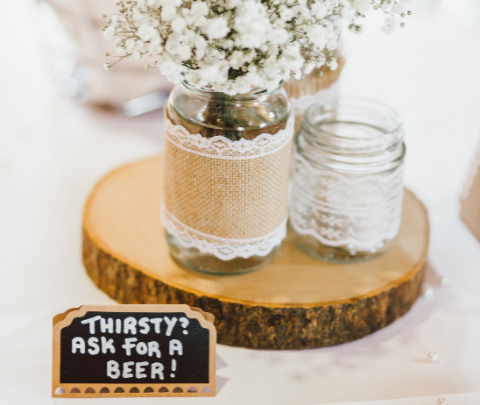 Step 5: Plan Your Guestlist
Now you have an overview of how to plan a wedding, it's time to start thinking about your guest list. This can be a challenging task, especially if you have a large family or are planning a destination wedding. However, there are a few things you can do to make the process easier. Start by creating two lists: one for must-invite guests and one for nice-to-invite guests. This will help you narrow down your guest list and keep track of the people who are most important to you. Our suggestion is to start with you and your partner's closest family members and friends and venture out from there. From there, you can begin thinking about how many people you'll invite in order to stay within your budget.
A wedding guest list can quickly become overwhelming. You may have a general idea of who you want to invite, but as soon as you start taking into account family members, wedding party members, and plus-ones, the list can get out of hand. This is where a guest count spreadsheet can come in handy when you plan your wedding. By creating a spreadsheet at this stage in your wedding planning journey, you can easily keep track of who you have invited, who has RSVPed, and who is unable to attend. This will save you the headache of getting confused later on and ensure that your guest list is as accurate as possible. Plus, you can easily update your spreadsheet as your guests respond to your invitations.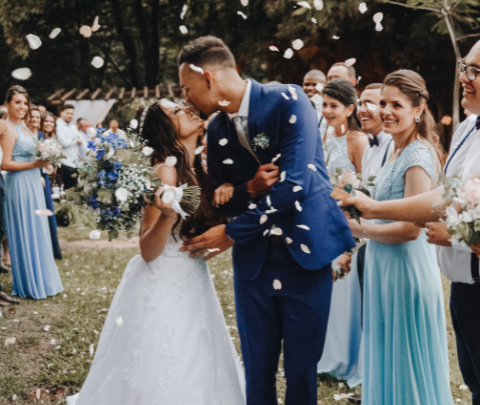 Step 6: Select Your Bridal Party
Now that you have your guest list finalised, it's a great time to start thinking about your bridal party. These are the people that will help support you by helping you buy your wedding dress, giving speeches at the wedding reception, and helping you celebrate at your bachelorette parties. Referring to your budget will help you decide how many people you can afford to include in your wedding party. You'll need to consider costs for bridesmaid dresses, suits, bouquets, or buttonholes for the party.
Remember that you can always ask close friends or family members to be a part of your special day, even if they're not at the wedding party. They can still help with wedding preparations or final details on the day and be there to support you on the big day. Thanking them in your speeches is a wonderful way to show your appreciation. So take some time to think about who you want by your side on this memorable occasion. It's one of the many fun decisions you get to make during wedding planning!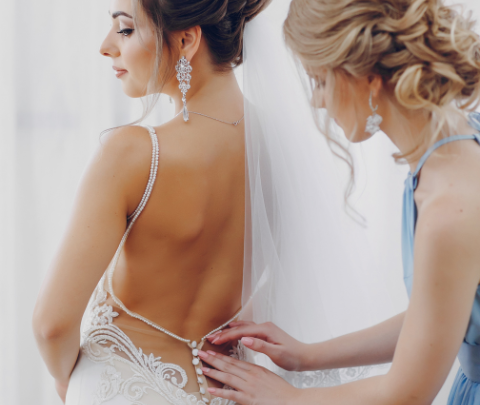 Step 7: Gather Wedding Inspiration
Looking for wedding day inspiration is something we're all probably guilty of... Even if we're not yet engaged. It's arguably the most enjoyable part of planning your wedding, but it can be easy to get carried away when looking at the different ways of how to plan a wedding. The great thing about getting wedding day inspiration before talking to any wedding vendors is you have a better idea of what you want, your own wedding style, and examples to make your vision clear. That being said, don't forget to include your wedding guest list when looking at inspiration photos! It's easy to get wrapped up in wedding photos with 200+ people, but if you're having a smaller wedding with 50 people, those photos won't be as helpful. Another wedding planning tip: try to keep your inspiration focused on what you want, rather than what family members or friends might want. At the end of the day, it's your wedding and you should be happy with the final result!
Pinterest is a great place to start gathering inspiration for your own wedding day. You can create multiple albums (boards) to keep things organized, and the visual format makes it easy to find ideas for every aspect of your wedding. If you're not a Pinterest user, there are still plenty of ways to find inspiration for your big day. Viewing portfolios from wedding vendors is a great way to get an idea of their style and see what they're capable of. And if you're working with a wedding planner, they'll be able to provide plenty of guidance and ideas to help make your vision a reality. Whatever route you choose, gathering inspiration is an important first step in planning a beautiful and memorable wedding.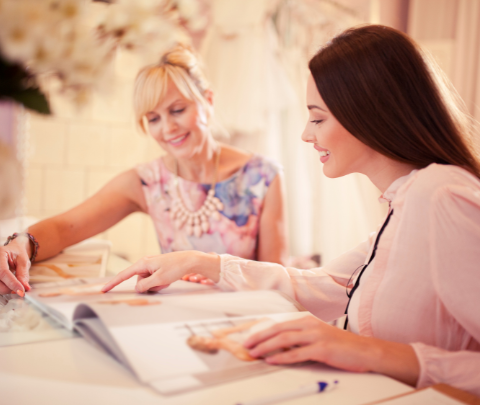 Step 8: Pick Your Date or Season
Now that you've gathered all the wedding inspiration you can find, it's time to pick a date or season. If you're set on a particular wedding date, start with that. However, we wouldn't suggest setting your heart on a specific date as there isn't much compromise that can be made and the date will depend on your wedding venue's availability. Instead, we'd recommend picking a season. When picking a season to get married, it's also important to research which flowers will be in season at your destination.
This is one of our top tips for saving money on your wedding flowers. Seasonal flowers are usually more affordable than those that are out of season, so this is a great way to stay within your budget. Plus, seasonal flowers add a lovely touch of nature to your wedding décor. If you're getting married in the springtime, consider using flowers like tulips, daisies, or lilies. For a summer wedding, try incorporating sunflowers, roses, or hydrangeas. And if you're planning a fall or winter wedding, there are beautiful seasonal blooms like mums, dahlias, and poinsettias to choose from. Do some research and see which flowers will be in bloom during your chosen season - you might be surprised at the variety and affordability of seasonal blooms.
Once you've picked a season, we'd suggest picking a handful of wedding dates and run them buy your most important guests. This will ensure that the people who are most important to you and your future spouse can attend!
Seasonality is a huge factor to consider when destination wedding planning also. You definitely want to check the weather of your destination and pick a season that works best for you and your guests. Seasonality will be different for each bride, as each bride will have different wants and priorities for their big day. For example, some brides might want to avoid the rainy season, while others might want to take advantage of off-peak discounts. Ultimately, it's up to you to decide what's most important for your destination wedding, as all destination weddings are unique to the bride. Once you've narrowed down a few seasons, you can start looking at specific dates. Keep in mind that the date you pick will also affect how much you'll spend on your wedding. If you're looking to save money, it's generally best to avoid major holidays and peak travel periods. However, if you have your heart set on a particular date, there are always ways to work around it. With a little bit of planning, you can have the wedding of your dreams - no matter what time of year it is!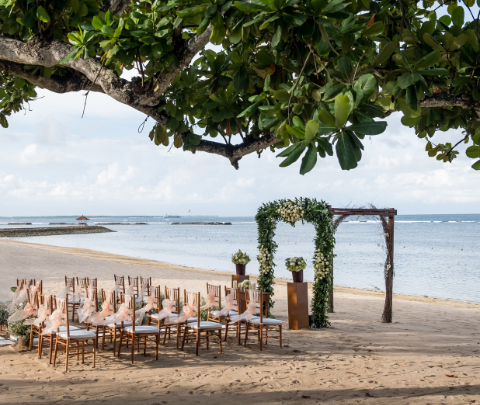 Step 9: Consider Wedding Insurance
As any bride-to-be knows, there's a lot that goes into planning a wedding. From booking the venue and hiring the caterer to find the perfect dress and ordering the flowers, there are countless details to take care of. And with so much to do, it's easy to forget about one important detail: wedding insurance.
Wedding insurance is designed to protect you from any unforeseen circumstances that could occur before or on your big day. For example, if your wedding dress is lost or damaged en route to the ceremony, or if the venue cancels your reservation due to a natural disaster, insurance can help cover the cost of these unexpected expenses.
While insurance is not required, it is becoming increasingly popular, especially in light of recent events such as the COVID-19 pandemic. So, if you're looking for peace of mind on your big day, be sure to add wedding insurance to your list of things to do.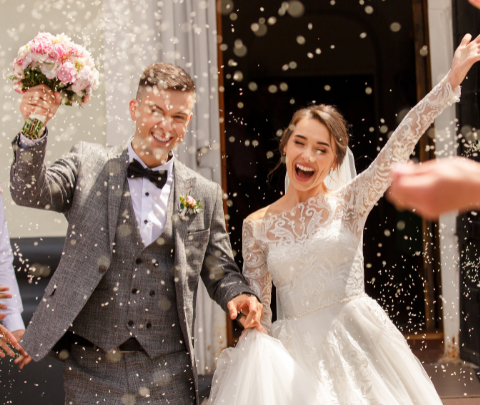 Step 10: Book Your Venues
Weddings are a joyous occasion that families and friends remember for years to come. If you're in the process of wedding planning, you know how important it is to get all the details just right. One of the most important decisions you'll make is choosing your venue or venues if you choose to have separate venues for your ceremony and reception instead of the same venue. Would you like an on-sight venue that has everything you need or an off-site venue that offers a more unique setting? Consider these pros and cons before making your decision. On-sight venues are convenient because they typically have a commercial kitchen and can accommodate large parties. This takes some of the stress out of wedding planning, as you won't have to worry about coordinating vendors or getting everything to the venue on the big day. However, an off-site wedding venue offers a more unique setting and can be customized to fit your specific vision. You may need to hire a day-of coordinator to help with logistics, but it's worth it for a one-of-a-kind event. Whichever route you choose, pick a venue that will make your wedding day truly special and allow you to enjoy life's biggest moments.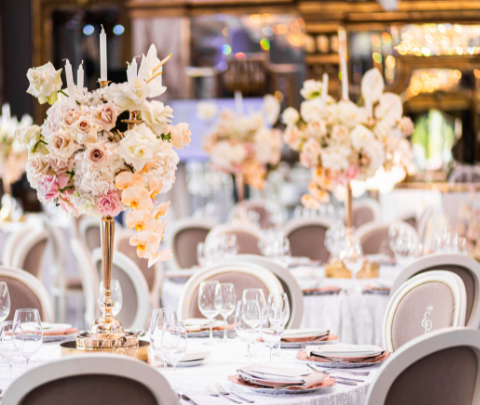 Step 11: Send Formal Invitations
Now that you have your venue booked and specific wedding dates, you can send your friends and family save the date cards! These invitations can be something you create yourself or hire someone from the wedding industry to create them for you - there's no shortage of wedding stationary suppliers such as Tree of Hearts a business dedicated to creating wedding stationary. You can add some personal aspects to your save-the-date invites, such as allowing your wedding guests to request a song when they send back their response. This creates a playlist made by your guests! This is just one idea of many, but it's a personal touch to your wedding invitations. How fun would it be to receive a wedding invitation with a song request attached?! Just another way to make your wedding planning process unique and memorable.
If your having separate venues for your ceremony and reception venue be sure to include this in your wedding invitations. You may even choose to have a smaller ceremony and invite more guests to the reception which can be a good money saver when booking two venues.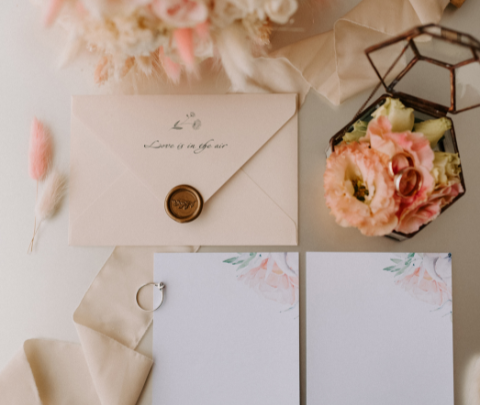 Step 12: Book Your Wedding Vendors
You've finally got a date and location set for your wedding day. Now it's time to start planning which wedding vendors you'll need to bring your big day together. Depending on the size and style of your wedding, you'll need to enlist the help of different professionals from the wedding industry. While it's important to get recommendations from friends or family, we advise that you always meet your potential vendors face to face before booking them, if you can. This way you can get a feel for how you will work together and if you're comfortable with them. You want to be able to enjoy your wedding day without any stress, so make sure you're completely comfortable with your vendors before booking them. With a little planning and some research, you can ensure that your big day is everything you've ever dreamed of.
The following is a list of vendors you'll need to think about when wedding planning. This may differ for each wedding, so take your time considering each one.
Wedding Florist

Wedding Caterer

Baker (For your Wedding Cake!)

Wedding Photographer

Wedding Videographer

Wedding Transportation

Wedding Bands / DJ / Entertainment

Rehearsal Dinner

Wedding Officiant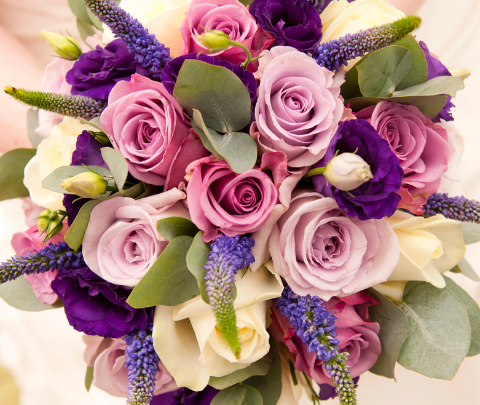 Step 13: Buy Your Wedding Attire
Now that you've set the date and sent out the save-the-dates, it's time to start thinking about your wedding attire! First up, your wedding dress. This is arguably the most important dress you'll ever wear, so take your time to find the perfect one. Do you want two different dresses for your wedding ceremony and reception? What style of dress would you like? Have you purchased an attire for your rehearsal dinner? These are all questions to think about when shopping for wedding attire!
Once you've found your dream dress, it's time to start thinking about the bridesmaid dresses. Traditionally, the bride will cover the cost of her bridesmaids' dresses, but don't be afraid to ask them to cover costs if needed.
You'll also need to think about the suits for the groom and groomsmen. To save on costs, many brides opt to rent suits instead of buying them outright. You may also have a Flowergirl and ring bearer at your own wedding so be sure to take them into account when shopping for wedding attire.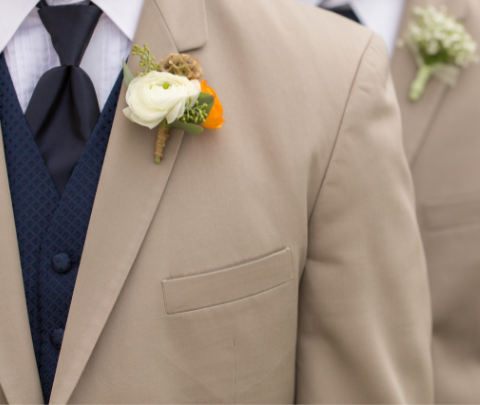 Another aspect of wedding attire that seems to slip off the radar when planning a wedding is accessories! Our advice is to shop for these when getting your dress so you can ensure they match and create the wedding style you're looking for on your big day. If you want to be a little more daring, wedding accessories are the perfect way to do it! A simple pair of earrings or a bracelet can make all the difference. And don't forget your shoes! Wedding shoes are often overlooked, but they can really complete your look. So, when you're shopping for your dream dress, be sure to take some time to find the perfect accessories to complete your look.
Whatever style you choose, ensure to give yourself a big enough time frame to arrange dress fittings before the big day. You'll also want to practice walking in your wedding dress so there isn't an embarrassing trip as you walk down the aisle!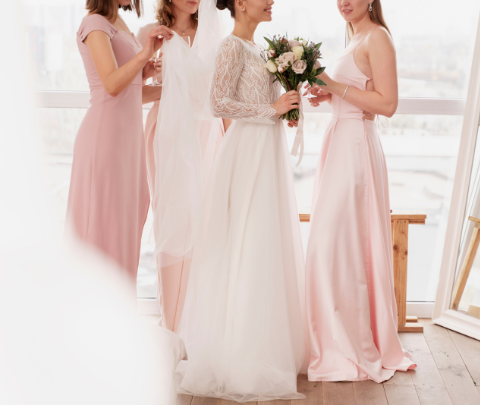 Step 14: Purchase Your Wedding Rings
It's one of the most important purchases you'll ever make together: your wedding rings. Whether you're splurging on diamonds or opting for a more budget-friendly metal, there are a few things to keep in mind as you shop. First, think about the style of your engagement ring. Do you want something that coordinates? Or do you prefer a completely different look? Next, consider your lifestyle. If you're active and tend to wear your jewelry all the time, a more durable metal like titanium or tungsten might be a good choice. Finally, don't forget to budget for the engraving! Whether it's your initials, your wedding date, or a simple "I love you," adding an inscription makes your rings even more special. With these tips in mind, you're sure to find the perfect rings to symbolize your love.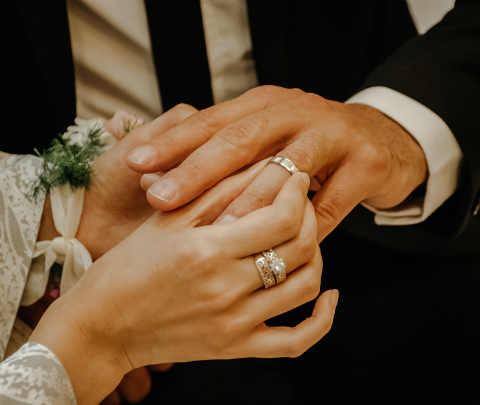 Step 15: Get Your Marriage Licenses
If you're planning a wedding, one of the things you need to do is get a marriage license. A marriage license is a legal document allowing you to marry. To get a marriage license, you and your future spouse must go to a municipal office and fill out an application. You will also need to provide proof of identity, such as a birth certificate, passport, or driver's license. Once your application is approved, you will be given a marriage license. This license is valid for three months, so it's important to make sure you get it in time for your wedding day. Without a marriage license, your wedding will not be legally binding. So if you're planning on tying the knot, make sure you pick up a marriage license!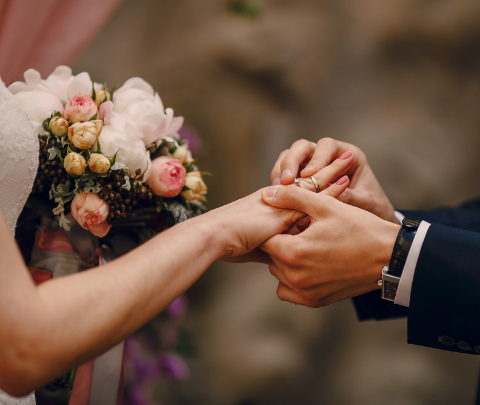 Step 16: Create a Wedding Website or Wedding Hashtag
Creating a wedding website is a great way to keep your guests up to date on all the latest wedding details. Wedding websites are becoming increasingly popular to keep on top of wedding plans, and we can see why. You can use your site to share your wedding story, post photos and videos, and provide information on your wedding day schedule. You can also use your site to collect RSVPs and track guest count. Plus, a website is a great way to share your wedding day with friends and family who can't be there in person. So if you're planning a big day, be sure to create a wedding website for all your guests to enjoy.
First, find a platform you're comfortable with and choose a domain name that is easy to remember and reflective of you as a couple. Next, decide on a design that best fits your style as a couple. You can choose anything from a simple, elegant template to a more fun and festive design. Once you have the basics set up, start adding content! Include all the important details like the date, time, and location of the ceremony and reception. Don't forget to include directions and parking information for guests who may be coming from out of town. You can also add a registry page so guests can easily purchase gifts for you. As you continue to plan your big day, be sure to keep your website updated with all the relevant information for your wedding.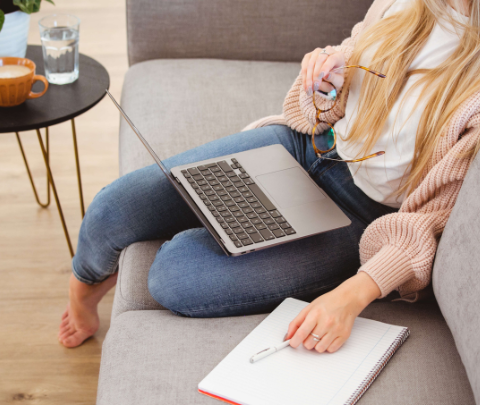 Step 17: Plan a Wedding Registry
One of the most important things you can do when you're getting married is to make sure that you and your partner are on the same page when it comes to your wedding registry. By taking the time to sit down and discuss what you both want and need, you can avoid any potential conflict down the road. And, once you've got your registry finalized, you can upload it to your wedding website so all of your guests have access to it. When it comes to creating your registry, there are a few things to keep in mind.
First, think about what you need. If you're moving into a new home, for example, you might want to register for some basic kitchen supplies. Alternatively, if you already have everything you need, you might want to focus on adding some fun items to your collection, like fancy cookware or a top-of-the-line coffee maker. Second, try to strike a balance between high-end and budget-friendly items. This way, no matter what their budget is, every guest will be able to find something they can afford.
Lastly, don't forget about the small things! Things like towels, bedding, and bathroom accessories may not seem like much, but they'll definitely be appreciated!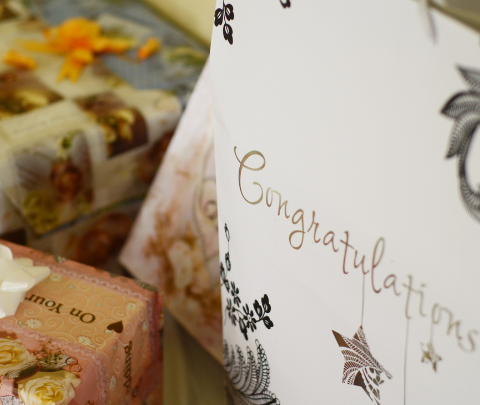 Step 18: Plan Your Wedding Favours
One of the best things about planning your wedding favours with your partner is that you can get really creative and come up with something that truly represents the two of you as a couple. Not to mention, it's a great way to get to know your partner's taste a little better (after all, you'll be spending the rest of your lives together, so might as well start as you mean to go on!). Plus, it's a fun way to relieve any wedding-related stress. Believe me, there's nothing like getting lost in the land of wedding favours to take your mind off of seating arrangements and caterer meetings. A great way to stay organised when planning your ng favours is a wedding gift list, helping you keep on track with what you need to buy. Just remember to have fun with it - after all, that's what weddings are all about!
One great idea we've seen our customers have is creating bespoke wedding favours from their wedding flowers! It's a great way to say thank you for all the help with your wedding events from your bridal party and allows them to carry a part of your big day with them for a lifetime. You can shop wedding favours via our Wedding Flower Preservation range.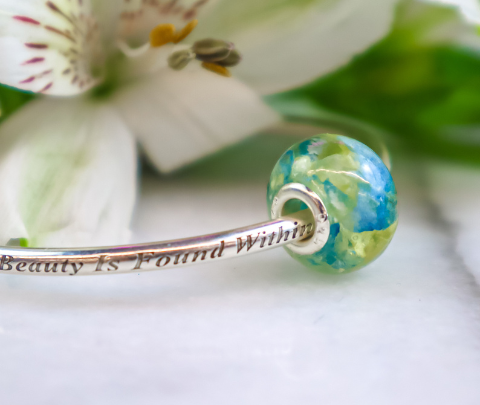 Step 19: Enjoy the Planning a Wedding Process
It's easy to get caught up in the stresses of wedding planning and lose sight of the fact that this is supposed to be a happy time. Yes, there will be some stressful moments, but it's important to enjoy the process as well. After all, you're only going to do this once! Try to take some time each day to savor the moment. Maybe it's taking a few extra minutes to admire your dress when you try it on for the first time, or spending an afternoon with your bridesmaids trying out different hairstyles. Whatever it is, make sure you take some time to enjoy the journey. It'll all be over before you know it!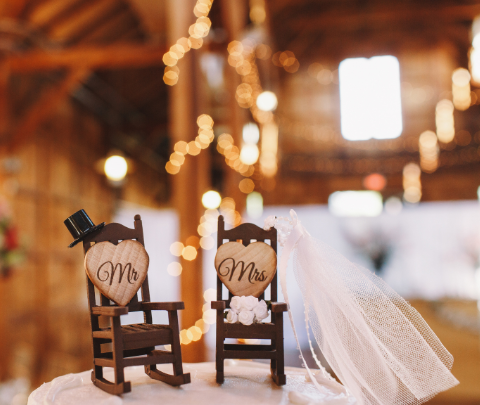 Planning your wedding can be a lot of fun, but it can also be a lot of work. We hope that this article has given you a good starting point and some helpful tips to make the process as stress-free as possible. Remember to take a step back and enjoy life's biggest moments. Your wedding day rolls round quickly so ensure to savour the planning process and enjoy every moment.
If you want more information on any of the topics we covered, please check out our blog for more wedding tips! Thanks for reading and happy planning!
Last Updated: 04/08/2022